Wavetec launches Self Service Kiosks for Banking & Telecom Sector in Pakistan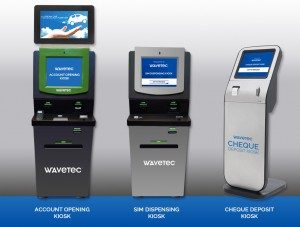 Wavetec a P@SHA member company dealing in customer experience solutions officially launched a range of self-service kiosks for Banking & Telecom sector.
As part of a growing demand for digital branch transformation solutions in Pakistan, Wavetec aims to give customers choice and flexibility to carry out their transactions through a more convenient channel, bridging the gap between online and physical world.
The launch witnessed unveiling of Bank Account Opening, Cheque Deposit & SIM Dispensing Kiosks. Both flexible and compact, all self-service solutions provide a complementary channel in branches or off-premise locations.
At the launch Wavetec's CEO Ahmed Fraz said, "Key to future success in Pakistan relies on banks and telecom operators to fully integrate digital experiences into their branches. Our banking and telecom solutions aim to facilitate businesses to rapidly expand their customer base even in the remotest areas of Pakistan."
Wavetec has been in the forefront of technological innovations with proven credentials in both hardware and software solutions. These self-service kiosks offer a modern modular design with an array of components for custom configurations offering consumers the convenience of bypassing teller lines and quickly completing typical branch transactions, such as account opening, cheque deposit and SIM dispensing.
These intelligently designed solutions ingest a variety of amazing features such as cash acceptance, cash disbursement, custom card printing, real-time SIM registration and biometric verifications.
"Tellers spend 80% of their time on basic client servicing tasks such as account opening and new SIM registrations," said Tobias Bessone Deputy CEO Wavetec. "Wavetec products & solutions are in strategic alignment with Banks & Telecoms global strategy operating in fast growing market. Our innovative solutions transform & increase business productivity while offering customers a great experience."
Wavetec has recently been selected by Telenor Pakistan, a Norwegian multinational telecommunications company, to design and develop more than 60 SIM dispensing kiosks with an array of transactional features to be deployed at franchises and public spaces nationwide.
This addition of self service product portfolio is a compliment to exiting ecosystem of solutions for the improvement of the service areas, meeting the company's needs in organizing the influx of people, guaranteeing a valuable engagement experience, and obtaining relevant measures for the decision-making process so as to improve business results.
About Wavetec
Wavetec is transforming customer experience and journey by offering technological solutions. With 8 Regional Offices and partnerships in over 75 countries, Wavetec has helped businesses organize, engage and measure customer flow with its innovative and advanced customer experience solutions.
Some of its clients are Barclays, Santander, Meezan Bank, Citi Bank, Kenya Commercial Bank, United Bank Limited, Mobilink, Zong, Telenor ,Banque Saudi Franci, Equity Bank, Arab Bank, BCI, Interbank and Banorte.